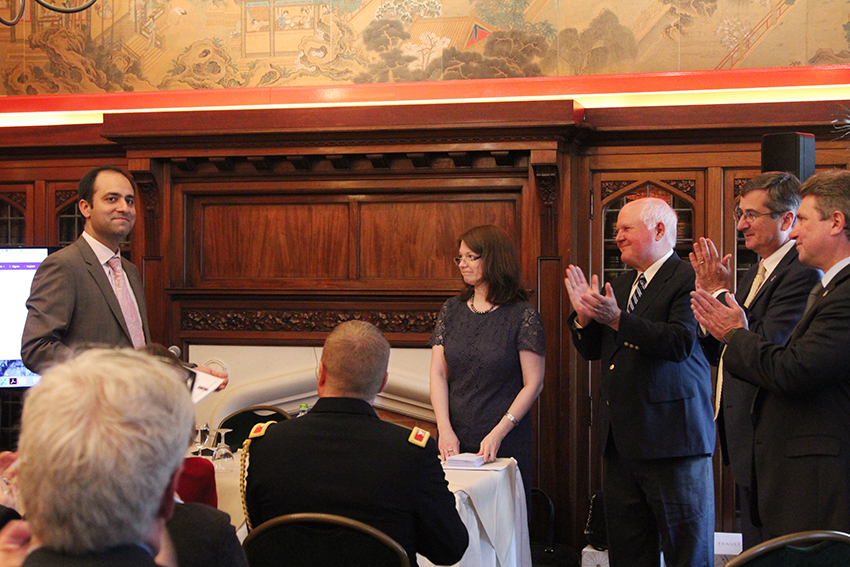 May 19, 2017 (Brussels, Belgium). A heartfelt thanks to Mphasis was the order of the day at a special ceremony held to celebrate the launch of the new AOMDA Foundation website and the people who helped to make it possible. Held in the Hoover Room of the University Foundation in Brussels during the week leading up to Memorial Day weekend, Mr. Mohit Bhat, Vice President of Mphasis, accepted certificates on behalf the project development team. AOMDA Belgium partner representatives Mike Yasenchak, Superintendent Ardennes American Cemetery, Matthew Lussenhop, Chargé d'Affaires, a.i. United States Embassy to the Kingdom of Belgium and Jerome Sheridan, President AOMDA Belgium expressed their gratitude to Mphasis and the AOMDA Foundation for this significant tool that will help to ensure that remembrance continues in a digital century (see photo).
As site visitors will have noticed, this website has recently transformed in several ways. To honor and commemorate the sacrifice of more than 14,000 American servicemen buried overseas in Belgium, the site now features a tribute page for each. People on both sides of the Atlantic are invited to research any serviceman interred in Belgium and to upload their contributions to his personal tribute page as a way to collectively tell and record their stories.
Whether visiting one of America's military cemeteries in Belgium or from anywhere in the world, interested persons and family members may look up any soldier's name to upload photos or missing information or to make a personal tribute. Contributions by soldiers' relatives as well as historians, student researchers and other volunteers can now be combined in an effort to ensure that this history is preserved. Servicemen's tribute pages can host photos, articles, scanned documents, videos, audio links, artwork or other resources. This site also scales for use on smartphones and tablets to make it easy for those visiting a cemetery to engage in these stories on location. While visiting a cemetery, any mobile device can be used to enter a serviceman's name and view the information and personal reflections of the many people who honor his memory.
Site visitors may also add their name to any serviceman's list of "Sentinels of Memory", to express their appreciation and to honor his sacrifice. Persons living closer to the cemetery may apply to serve as a "Primary" Sentinel of Memory, a commitment to visit his grave throughout the year with floral tributes and to further research his life.
"This digital database, dedicated to telling and preserving the stories of these fallen American servicemen, is by far the most wide-reaching move we have initiated yet," says Dr. Jerome Sheridan, President of AOMDA Belgium and Director of American University's Brussels Center, himself a published historian and professor of international relations. "With every passing year, the number of veterans who attend our ceremonies is declining and those with a direct memory of the wars and the lives of these soldiers, sailors, marines, and airmen continues to fade. We have an obligation to do what we can to keep the memory of these servicemen alive and to let their stories speak for the true price and value of freedom. Thanks to new technology, this effort is now a global transatlantic effort."
The AOMDA Foundation is grateful for the generous support of Mphasis: "Digital technologies are changing the face of business as well as our society," says Dinesh Venugopal, President of the firm's Direct and Digital unit. "Not only is it imperative to support associations like the AOMDA Foundation; this digital research database allows us to immortalize the stories of these servicemen." Sheridan adds, "The value of freedom and liberty shared by many people across the world is something to be celebrated and nurtured. As we create new ways for both old and young to engage with and contribute to the stories of these servicemen, we hope that this highly interactive resource will have long-term value for their families and their grateful nation."