KING HARRY ARTHUR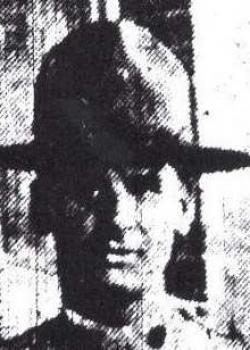 Lijssenthoek Commonwealth War Graves Cemetery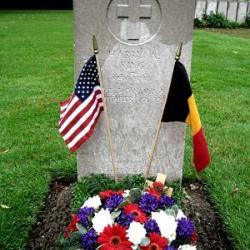 Primary Sentinel of Memory
Sentinels of Memory
Biography
English:
Pfc. Harry King was born in 1893, a native of Wychnor Park in Staffordshire England.  His parents were John and Susan King, and they lived at 65 Belgrave Road, Longton, Stoke-on-Trent.  Harry had four brothers (Ernest, George, Reginald, and Lewis) and three sisters (Eva, Alice and Elian.) In 1908, Harry's brother Ernest emigrated to America in search of a better life.  Harry and his brothers Reginald and George followed Ernest to America in 1914.  That proved to be a fateful year for the family when their died and the First World War broke out.  Reginald returned to England late that year and joined the British army.  He served as a private in a mechanical transport unit of the Army Service Corps.  Lewis, the only brother who had remained in England, likewise joined the British army and was eventually assigned to the Tank Corps.  George went north from America and joined the Canadian army.  Harry stayed in America and enlisted in the United States Cavalry.  By 1917, four of the five King brothers were under arms for the Allies, but serving in the armies of three different countries. 
Harry was assigned to the 3rd United States Cavalry's F Troop.  When America entered the war in 1917, the Third Cavalry was one of the few standing forces the United States had available.  Consequently, it was one of the earlier units to be sent to Europe, arriving in France in November of 1917.  Although horse-mounted cavalry was useless in the trenches of the First World War, horses did play a crucial role in transporting supplies, weapons, and ammunition to the front.  The 3rd Cavalry spent the war taking care of those horses and resupplying the front line troops.  Harry's F Troop ran a remount depot for quartermaster and artillery units near Bourbonne-les-Bains in the Haute Marne region of France.   
The Western Front was a dangerous place, even for those who did not serve in combat roles.   The unsanitary conditions of the trenches were breeding places for disease.  In fact, more American soldiers were killed by disease in the First World War than were killed in combat.  Harry King became one of them when he died on 20 September 1918.  His cause of death was officially listed as bronchial pneumonia, but in fact it was the Spanish Flu, a disease that killed tens of millions of people between 1918 and 1920.  Harry was initially buried at the Argonne American cemetery at Romange-sous-Montfaucon.
Harry''s mother Susan initially requested that his remains be sent to England to be buried beside his father at Checkley.   However, Harry's brother Reggie had died near Ieper on 17 October 1917, and was buried in the Lijssenthoek Commonwealth War Graves Cemetery.  Unlike the practice in the US Army, the remains of soldiers who died in the service of the British Empire could not be repatriated.  When Mrs. King learned that Lijssenthoek was to be her son Reggie's final resting place, she changed her mind about her son Harry's burial.  She requested that Harry be buried near his brother Reggie at Lijssenthoek.  His remains were moved to Lijssenthoek in October of 1921.  
Harry's brothers Lewis and George survived the war, and George later owned a tailor shop in New York City. Mrs. King had the following inscription carved into Harry's tombstone:  "Best of Sons and Brothers, Also Reggie Buried Close By." Back in Staffordshire, Harry and Reggie's names are forever commemorated on a war memorial plaque on the outside the wall of The Resurrection's Church.
Version Français:
Fils de John et Susan King, Harry King est originaire du Staffordshire en Angleterre, il a quatre frères (Ernest, George, Reginald et Lewis) et trois sœurs (Éva, Alice et Elian). En 1908, le frère d'Harry, Ernest, émigre en Amérique en quête d'une vie meilleure. En 1914, Harry, Reginald et George le rejoignent. La même année, leur père John King meurt et la guerre débute. Reginald retourne en Angleterre et rejoint l'Armée Britannique. Il sert comme soldat dans une unité de transport. Lewis, le seul frère resté en Angleterre rallie lui aussi l'Armée Britannique et est affecté à une unité de tanks. George, lui, part vers le nord de l'Amérique et entre dans l'Armée Canadienne. Harry demeure aux États-Unis et s'enrôle dans la cavalerie. En 1917, quatre des cinq frères King servent dans les armées de trois pays différents.
Harry est affecté à la 3ème Cavalerie des Etats-Unis, une des seules forces armées que les Etats-Unis ont de disponibles à cette époque. Par conséquent, en novembre 1917, elle est une des premières unités qui part en France. Bien qu'une unité de cavalerie semble inutile dans une guerre de tranchées, les chevaux ont joué un rôle crucial dans le transport des fournitures, des armes et munitions vers le front. La troupe d'Harry est attachée à un dépôt d'intendance et d'artillerie près de Bourbonne-les-Bains, dans la région de la Haute-Marne en France.
Le Front occidental est un endroit dangereux, même pour ceux qui ne sont pas à un poste de combat. L'insalubrité des tranchées est un lieu propice aux maladies. En fait, plus que les pertes au combat, les maladies ont été la plus grande cause de mort parmi les soldats américains durant la première guerre mondiale. Harry King est devenu l'un d'eux, quand il meurt le 20 septembre 1918. La cause de sa mort est officiellement classée «broncho-pneumonie», mais en fait c'est la grippe espagnole qui l'emporte, une maladie qui a tué des dizaines de millions de personnes entre 1918 et 1920. Harry est initialement enterré au cimetière américain de Meuse Argonne (Romagne-sous-Montfaucon, France).
La mère d'Harry demande tout d'abord que sa dépouille soit envoyée en Angleterre pour y être enterrée à côté de celle de son père à Checkley. Le frère d'Harry, Reginald, décédé près d'Ypres le 17 octobre 1917, est enterré dans le cimetière de guerre du Commonwealth à Lijssenthoek. A la différence de l'armée américaine, les dépouilles des soldats morts au service de l'Empire Britannique n'étaient pas rapatriées. Lijssenthoek sera donc la dernière demeure de Reginald, Madame King change alors d'avis et demande que son autre fils Harry soit enterré lui aussi à Lijssenthoek. En octobre 1921, ses restes sont transférés près de son frère Reginald. Sur la pierre tombale de Harry, Madame King fait inscrire: « Les meilleurs fils et frères, Harry et Reggie enterrés proches l'un de l'autre ». Dans le Staffordshire, les noms d'Harry et de Reggie sont commémorés pour toujours sur une plaque de guerre apposée sur le mur extérieur de l'église.
Les autres frères d'Harry, Lewis et George, ont survécu à la guerre; George sera propriétaire d'un atelier de couture dans la ville de New York.
Auteur: Jérôme Sheridan
Sources:
IDPF (information personnelle des archives militaires) du SOLDAT DE PREMIÈRE CLASSE HARRY ARTHUR KING
Les soldats du Cimetière américain de Flanders Field (Courtrai Groeninghe, 2011.) par Patrick Lernout et Christopher Sims  (ce dernier est le guide du Cimetière américain de Flanders Field, Waregem)
Diverses histoires de la première guerre mondiale
Nederlandse versie:
Soldaat Eerste Klas Harry King werd geboren in 1893 als inwoner van Wychnor Park in Staffordshire Engeland. Zijn ouders waren John en Susan King, ze leefden op 65 Belgrave Road, Longton, Stoke-on-Trent. Harry had vier broers (Ernest, George, Reginald en Lewis) en drie zussen (Eva, Alice en Elian). In 1908 emigreerde Harry's broer Ernest naar Amerika op zoek naar een beter leven. Harry en zijn broers Reginald en George volgden Ernest naar Amerika in 1914. Dat bleek een noodlottig jaar voor de familie, toen hun vader stierf en de Eerste Wereldoorlog uitbrak. Reginald keerde terug naar Engeland eind dat jaar en nam dienst in het Britse leger. Hij diende als soldaat in een gemechaniseerde transport eenheid van het Army Service Corps. Lewis, de enige broer die in Engeland was gebleven, had ook dienst genomen in het Britse leger en werd uiteindelijk toegewezen aan het Tank Corps. George trok naar het noorden van Amerika en nam dienst in het Canadese leger. Harry bleef in Amerika en nam dienst in de Cavalerie van de US Army. In 1917 waren vier van de vijf broers onder de wapens bij de geallieerden maar dienden zij de legers van drie verschillende landen.
Harry werd toegewezen aan de 3e Amerikaanse Cavalerie F Troop. Toen Amerika in 1917 ten strijde trok, was de 3e Cavalerie één van de weinige permanente eenheden die de Verenigde Staten beschikbaar hadden. Bijgevolg was het een van de eerste eenheden om naar Europa te worden gestuurd. In november 1917 kwamen zij in Frankrijk toe. Hoewel bereden cavalerie nutteloos was in de loopgraven van de Eerste Wereldoorlog, speelden paarden een cruciale rol in het transport van goederen, wapens en munitie naar het front. De 3e Cavalerie bracht de oorlog door met het verzorgen van paarden en het herbevoorraden van frontlinie troepen. Harry's F Troop diende in een remonte depot voor kwartiermeester en artillerie-eenheden in de buurt van Bourbonne-les-Bains in de Haute Marne regio van Frankrijk.
Het Westelijk Front was een gevaarlijke plaats, zelfs voor degenen die niet dienden in de fronttroepen. De onhygiënische omstandigheden van de loopgraven waren broedplaatsen voor verschillende ziektes. In feite werden meer Amerikaanse soldaten gedood door ziekte in de Eerste Wereldoorlog dan door de strijd. Dit overkwam ook Harry King toen hij stierf op 20 september 1918. Zijn doodsoorzaak werd officieel vermeld als bronchiale longontsteking maar in feite stierf hij aan de Spaanse Griep, een ziekte die tientallen miljoenen slachtoffers maakte tussen 1918 en 1920. Harry werd aanvankelijk begraven op de Amerikaanse begraafplaats "Argonne" in Romange-sous-Montfaucon.
Harry's moeder, Susan, vroeg aanvankelijk om zijn stoffelijke overschot naar Engeland over te brengen om naast zijn vader te worden begraven in Checkley. Reginald, Harry's broer, was echter op 17 oktober 1917 nabij Ieper gestorven en werd begraven in de Lijssenthoek Commonwealth War Graves Begraafplaats. In tegenstelling tot de gang van zaken in het Amerikaanse leger, konden de overblijfselen van soldaten die in dienst van het Britse rijk waren omgekomen, niet worden gerepatrieerd. Toen mevrouw King vernam dat Lijssenthoek de laatste rustplaats was van haar zoon Reggie, veranderde ze van gedacht over haar zoon Harry's laatste rustplaats. Zij verzocht dat Harry in de buurt van zijn broer Reggie zou worden begraven op Lijssenthoek. Zijn stoffelijk overschot werd overgebracht naar Lijssenthoek in oktober 1921.
Harry's broers Lewis en George overleefden de oorlog, George bezat later een kleermakerszaak in New York. Mevrouw King liet volgende inscriptie graveren op Harry's grafsteen: "Beste van Zonen en Broers, alsook Reggie hier nabij begraven". In Staffordshire, zijn Harry en Reggie's namen voor altijd vereeuwigd op een gedenkteken op de muur van de kerk "De Opstanding van de Heer".
Jerome Sheridan schreef het bovenstaande verhaal, op basis van de volgende bronnen:
De IDPF van Private First Class van Harry King
Biografie Harry King in het boek De soldaten van de militaire begraafplaats Flanders Field door Patrick Lernout en Christopher Sims (Groeninghe Kortrijk, 2011). De foto van Harry King komt ook uit dit boek.
Diverse geschiedenissen van de Eerste Wereldoorlog
Videos (1)
Isolated Grave Ceremonies
Filmed in 2009, this video provides a taste of what the isolated grave ceremonies are all about.
Tags:
HARRY ARTHUR KING, KING HARRY ARTHUR