SORENSEN GERALD E.
Old Community Cemetery of Ganshoren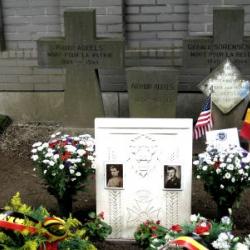 SORENSEN GERALD E.
Unit & Div
339th Bombardment Squadron; 96th Bombardment Group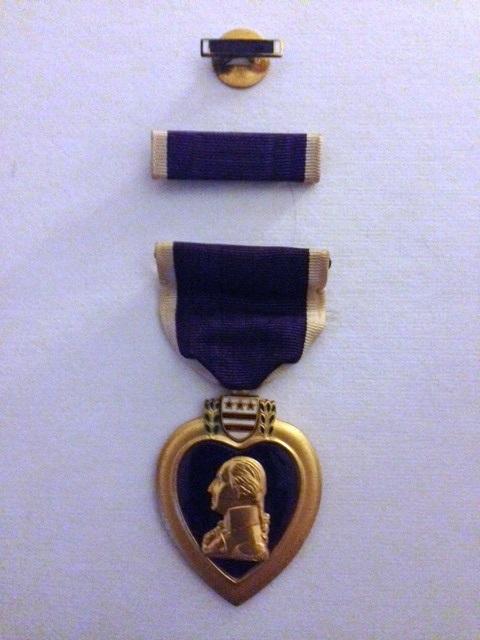 Born
span
Primary Sentinel of Memory
Sentinels of Memory
Biography
English:
Staff Sergeant Gerald (Jerry) Sorensen was born on 31 October 1919 near Blackfoot, Idaho, the son of Luella and Ephraim Sorensen.  When he was in high school, his family moved to Pocatello, Idaho.  Sorensen volunteered for the United States Army Air Force in May of 1942.  While he was stationed at the Amarillo Army Air Base in Texas, he met and married Nora Lee Lewis.  
On 1 May 1944, Sgt. Sorensen was serving as the ball turret gunner on a B-17G Flying Fortress named the "Wolverine" when it took off at 15.00 on a mission to bomb railway yards at Metz.  It was the crew's 2nd mission.  Before reaching the target area, one of the plane's engines failed but the pilot was ordered to press on with the mission.  Anti-aircraft fire took out a second engine over the target area, but it successfully bombed its target anyway "with good result."  However, B-17's were not designed to fly on two engines, and as the plane made its way back toward England, it slowly lost altitude.  The pilot ordered all unnecessary items thrown overboard in the hope that they could lighten the plane sufficiently to make it to the Channel.  But this was not enough to keep the plane in the air, and the pilot gave the order to bail out over Belgium. All ten crewmembers survived the bailout.  Sorensen landed near the village of Silly, suffering a twisted ankle.  Sorensen made contact with members of the Belgian Resistance Organization, the Comet Line (see the biography of Robert Garrett.)  
sorensen4.jpg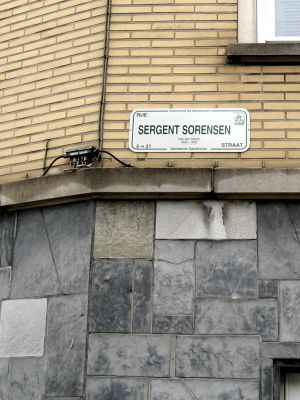 The Comet Line sheltered him in a number of safe houses until bringing him to the home of Arthur Abeels in Ganshoren.   Arthur Abeels was the President of the local veterans association in Ganshoren.  His son Roger was twenty years old, and was a member of the Secret Army, an armed Belgian Resistance organization.  Roger had joined the Secret Army in 1941.  Roger's dream was to become a pilot and go to London to fly with the RAF, as other Belgians had done.  He learned to speak English well.  Although he was never able to go to London, becoming an aviator remained his dream.   Another downed American aviator, Bernard L. (Mac) McManaman, had arrived in the Abeels home the day before Sorensen arrived.  It wasn't long before Roger, Jerry, and Mac became very good friends.  Arthur considered Jerry and Mac as sons, and their daughter Jenny considered them as brothers, despite their teasing her.  Jenny Abeels says that the time Jerry and Mac stayed in her home "were the happiest two months of my life."  Sorensen even picked up some French, and his thick Idaho accent charmed the Abeels family.
Jerry and Mac were members of the Abeels family, and Roger's best friends.  As Jerry and Mac learned more about Roger's activities in the Secret Army, they decided to take up arms along side their friend. In early August, the three young men went to Saint Marcoult, where Jerry and Mac formally joined Zone 1, Sector D of the Secret Army.  They spent the month of August collecting intelligence, sabotaging German operations, and recovering arms and supplies that were parachuted to the Resistance.  Jerry and Mac's military training proved helpful for the Secret Army.  
On Sunday 3 September 1944, the Nazi's were in full retreat across Belgium.  The Secret Army was ordered to attack the German armies and hinder their retreat.  Jerry, Mac, and Roger were assigned to a Secret Army unit that was to take up a position in the village of Marcq-Les-Enghien, where they were to harass any Germans who would be retreating along the main road leading from Ath.  They approached the village on a small road that made a T intersection with the main road from Ath.  Just before this intersection, either Jerry's or Roger's bicycle broke down.  (It is not clear who was riding the bike with the problem.)  Jerry and Roger stopped to fix the bike while Mac and the other five went ahead to take up their planned positions and wait for the Nazis.   As Jerry and Roger were working on the bike, a slow moving German vehicle with officers on board passed by on the main road.  Houses obstructed Jerry and Roger's views of any other traffic on that road.  Jerry and Roger opened fire on the German vehicle without realizing that this was the lead vehicle of a column of an SS company.  The Nazis gave chase, and Jerry and Roger took up a defensive position in a rabbit hutch.  Armed only with their submachine guns, they fought fiercely as the Nazis attacked them.  The Nazis threw a grenade into their position.  The shrapnel struck Jerry in the head and neck, and Roger in the back, killing both young men instantly.  The time of Jerry and Roger's death was 13.30 on that Sunday.  Thirty minutes later, the British army traveled up the same road, liberating the village. 
On 10 September 1944, the remains of Jerry and Roger were buried with honors in the community of Ganshoren's cemetery.  After the war, the US Army wanted to move Jerry's remains to one of the new American military cemeteries.  However, Jerry's wife and family asked that his body remain undisturbed in the Ganshoren cemetery.  As his father wrote to the War Department in June of 1946, "We feel that he is beside his friend and near the people who gave him a home when he was alone in a foreign land."  After some lengthy paperwork, the family's request to leave Jerry's remains undisturbed was granted in January of 1949. After the war, Nora Lee Sorensen and the Abeels family became friends.  
As early as November of 1945, the Abeels family encouraged Nora to visit them in Belgium.  Arthur Abeels wrote to her, "You can't understand, dear Nora, how much we love you.  You are the dear wife of our beloved Jerry.  We have love [sic.] him the first day he came at home.  We have never met a better boy than him.  When he called us Pa and Ma, we were so happy.  Roger and Jerry were like brothers together.  It is for that reason that they stayed together, and they died together."  In January of 1947, Nora Lee Sorensen came to Belgium and stayed with the Abeels family for three months.  She visited her husband's grave often to grieve.  In her honor, the community of Ganshoren held a commemoration service for Sergeant Sorensen on Saturday 8 February, and the community of Marcq-les-Enghien did the same on 27 April.  Sorensen was posthumously decorated with five Belgian military honors, and a street was named after him in Ganshoren.  
Nora Lee and Jenny Abeels remained friends for life. As for Mac, he and Jenny stayed in touch after the war and he visited her in Belgium.  When the Korean War broke out, Mac was called to active duty in the Air Force.  He served in Korea as the tail gunner of a B-26C Invader bomber.  While on a night intruder mission, his plane was hit by anti-aircraft fire and crashed.  He is listed as missing in action and presumed dead.  The planed crashed on 2 September 1951, almost exactly seven years after the date that his friends Jerry and Roger were killed.    
One member of Sorensen's crew wrote the following about him: "Sorensen died because he firmly believed in what we were fighting for.  He would rather fight with the Belgians than to return home in safety.  Only those who knew him can understand this."   
 
See Jerome W. Sheridan.  American Airman in the Belgian Resistance:  Gerald E. Sorensen and the Transatlantic Alliance. (Jefferson NC:  McFarland & Company, 2014.)  Available from McFarland & Co, as well as other major booksellers.
Version Français:
Gérald (Jerry) Sorensen naît le 31 octobre 1919 près de Blackfoot, Idaho, fils de Luella et Ephraim Sorensen. Alors qu'il fréquente le lycée, sa famille déménage à Pocatello, Idaho. En mai 1942 Sorensen se porte volontaire et s'engage dans l'Armée de l'Air. Stationné sur la Base aérienne d'Amarillo au Texas, il rencontre et épouse Nora Lee Lewis.
Le 1er mai 1944, le Sergent Sorensen, au poste de mitrailleur dans la tourelle d'un B-17G Forteresse nommé le "Carcajou", décolle à 15h00 avec la mission de bombarder la gare de triage de Metz. C'est la 2ème mission de l'équipage. Avant d'atteindre la cible, un des quatre moteurs de l'avion rencontre un problème, mais le pilote reçoit l'ordre de poursuivre la mission. Les tirs anti aériens allemands anéantissent un deuxième moteur, malgré ses avaries, le Carcajou bombarde avec succès sa cible. Cependant, un B-17 n'est pas conçu pour voler sur deux moteurs et lors de son retour en Angleterre, il perd lentement de l'altitude. Le pilote ordonne de jeter à la mer tout ce qui n'est pas nécessaire au bon fonctionnement de l'appareil dans l'espoir de l'alléger, mais ce n'est pas suffisant pour maintenir l'avion dans les airs, finalement le pilote donne l'ordre de sauter alors qu'ils survolent la Belgique. Tous les dix membres de l'équipage survivent, Sorensen avec une entorse à la cheville se retrouve près du village de Silly et rentre en contact avec les membres de la résistance belge, le Réseau Comète (voir la biographie de Robert Garrett).
Le Réseau Comète place Jerry dans différents refuges avant de l'introduire dans la maison d'Arthur Abeels de Ganshoren. Arthur Abeels est le Président de l'Association des Anciens Combattants de Ganshoren. Son fils Roger, vingt ans, est membre depuis 1941 de l'armée secrète, une organisation armée de la résistance belge. Le rêve de Roger est de devenir pilote et de rejoindre Londres pour voler avec la RAF, comme l'ont fait d'autres belges. Il a appris à bien parler l'anglais. Le jour avant l'arrivée de Sorensen, un autre aviateur américain, Bernard McManaman (Mac), a lui aussi été placé dans la maison des Abeels. Roger, Jerry et Mac deviennent rapidement de très bons amis et Arthur de son côté considère les deux jeunes hommes comme ses fils; sa fille Jenny, malgré leurs constantes taquineries, les considère comme des frères et dira plus tard à propos de cette époque « c'étaient les deux mois les plus heureux de ma vie. » Sorensen ayant appris un peu le français, s'exprime avec un fort accent d'Idaho qui charme la famille Abeels.
Jerry et Mac, par l'intermédiaire de Roger, entrent dans la Résistance belge et prennent les armes au côté de leur ami. Au début d'août, à Saint Marcoult, les deux Américains rejoignent officiellement la Zone 1 du secteur D de l'armée secrète. Durant le mois d'août ils collectent des renseignements, sabotent des opérations allemandes et récupèrent des armes et des fournitures parachutées pour la résistance. La formation militaire de Jerry et Mac s'avère utile pour l'armée secrète.
Le dimanche 3 septembre 1944, alors que les nazis sont en pleine retraite, l'armée secrète ordonne une attaque afin d'entraver leur retraite. Jerry, Mac et Roger sont affectés à un poste dans le village de Marcq-Les-Enghien; ils doivent ralentir le retrait des allemands sur la route principale menant à Ath. Alors qu'ils approchent le village, sur une petite route qui fait une intersection en forme de T avec la route principale de Ath, la bicyclette de Jerry (ou de Roger?) tombe en panne. Ils s'arrêtent pour réparer le vélo tandis que Mac et les cinq autres résistants vont de l'avant pour prendre leurs positions. Subitement un véhicule allemand surgit du coin de la rue; Jerry et Roger ouvrent le feu sur le véhicule ennemi sans se rendre compte que c'est le véhicule de tête d'une colonne d'une compagnie de SS. Armés seulement de leurs mitraillettes et retranchés dans un clapier, ils combattent avec acharnement. Il est alors 13h30, lorsqu'une grenade ennemie explose, touchant Jerry à la tête et au cou et Roger au dos, les tuant tous deux instantanément. Trente minutes plus tard, sur la même route, l'armée britannique arrive et libère le village.
Le 10 septembre 1944, les restes de Jerry et Roger sont enterrés avec les honneurs dans la communauté du cimetière de Ganshoren. Après la guerre, l'armée américaine veut déplacer les restes de Jerry dans l'un des cimetières militaires américains, mais l'épouse de Jerry et sa famille demandent que son corps ne soit pas retiré du cimetière de Ganshoren. Son père écrit « Nous estimons qu'il est à côté de son ami et proche du peuple qui lui a donné une maison lorsqu'il était seul dans un pays étranger. » En janvier 1949, après de longues formalités administratives, la demande de la famille est respectée. Après la guerre, la femme de Jerry, Nora Lee Sorensen et la famille Abeels deviennent amies.
Dès le mois de novembre 1945, la famille Abeels encourage Nora à leur rendre visite en Belgique. Arthur Abeels lui écrit « vous ne pouvez, chère Nora, réaliser combien nous vous aimons. Vous êtes la femme de notre bien-aimé Jerry. Nous l'avons aimé dès son arrivé dans notre maison. Nous n'avons jamais rencontré un garçon aussi bien que lui. Quand il nous a appelés Pa et Ma, nous étions si heureux. Roger et Jerry étaient comme des frères. C'est pour cette raison qu'ils sont restés et moururent ensemble. » En janvier 1947, Nora Lee Sorensen est venue en Belgique et est restée avec la famille Abeels pendant trois mois. Elle visite la tombe de son mari régulièrement. Le samedi 8 février, en l'honneur du sergent Sorensen, la communauté de Ganshoren tient un service de commémoration et la communauté d'Enghien-les-Marcq fait de même le 27 avril. Sorensen reçoit à titre posthume cinq décorations militaires belges et une rue porte son nom à Ganshoren.  
Nora Lee et Jenny Abeels sont restées amies à vie. En ce qui concerne Mac, lui et Jenny sont restés en contact après la guerre, il est revenu la voir en Belgique. Quand la guerre de Corée éclate, Mac est admis dans l'aviation, mitrailleur à bord d'un bombardier B-26C Envahisseur. Lors d'une mission de nuit, son avion est touché par des tirs antiaériens et s'écrase. Le 2 septembre 1951 Il est répertorié comme disparu au combat et est présumé mort, presque exactement sept ans après la date de la mort de ses amis Jerry et Roger.
Un membre d'équipage de Sorensen a écrit: «Sorensen est mort parce qu'il croyait fermement en la juste cause de notre combat. Il a préféré se joindre au combat des belges au lieu de retourner chez lui et retrouver la sécurité. Seuls ceux qui le connaissaient peuvent comprendre cela.»
Voyez Jerome W. Sheridan.  American Airman in the Belgian Resistance:  Gerald E. Sorensen and the Transatlantic Alliance.  (Jefferson NC:  McFarland & Co., 2014.) Disponible en anglais à McFarland & Co(link is external). et d'autres libraires
Nederlandse versie:
Staff Sergeant Gerald (Jerry) Sorensen werd geboren op 31 oktober 1919 in de buurt van Blackfoot, Idaho, als zoon van Luella en Ephraim Sorensen. Toen hij op de middelbare school was, verhuisde zijn familie naar Pocatello, Idaho. Sorensen nam vrijwillig dienst bij de United States Army Air Force in mei 1942. Terwijl hij gestationeerd was op de Amarillo Army Air Base in Texas, ontmoette hij Nora Lee Lewis met wie hij trouwde.  
Op 1 mei 1944, diende Sgt. Sorensen als "ball turret gunner" op de "Wolverine" een B-17G Vliegend Fort, toen het om 15:00u op missie vertrok om het spoorwegcomplex bij Metz te bombarderen. Het was de tweede missie van de bemanning. Vóór het bereiken van het doelgebied, hield een van de motoren het voor bekeken, maar de piloot werd bevolen om door te zetten met de missie. Luchtafweergeschut vernielde een tweede motor boven het doelgebied maar toch werd het doel met succes gebombardeerd, "met een goed resultaat." B-17's waren echter niet ontworpen om op twee motoren te vliegen. Het vliegtuig verloor bijgevolg langzaam hoogte, op de terugweg naar Engeland. De piloot beval alle overbodige ballast overboord te gooien, in de hoop het vliegtuig voldoende te verlichten en zo de Kanaaleilanden te kunnen bereiken. Dit was helaas niet genoeg om het vliegtuig in de lucht te houden en de piloot gaf het bevel om boven België uit het vliegtuig te springen. Alle tien bemanningsleden overleefden de sprong. Sorensen landde in de buurt van het dorpje Silly en verstuikte zijn enkel tijdens de landing. Daar maakte hij contact met leden van de Belgische verzetsorganisatie, de "Comet Line" (zie de biografie van Robert Garrett).
De "Comet Line" bracht hem onder op verscheidene onderduikadressen alvorens te worden overgebracht naar het huis van Arthur Abeels te Ganshoren. Arthur Abeels was de voorzitter van de lokale veteranenvereniging in Ganshoren. Zijn zoon Roger was twintig jaar oud en was lid van het Geheim Leger, een gewapende Belgische verzetsorganisatie. Roger was in 1941 bij het geheime leger toegetreden. Het was Roger zijn droom om piloot te worden en voor de RAF te vliegen in Engeland, zoals andere Belgen hadden gedaan. Hij leerde goed Engels spreken. Hoewel hij nooit in Londen geraakte, bleef piloot worden zijn droom. Een andere neergehaalde Amerikaanse vliegenier, Bernard L. (Mac) McManaman, was de dag voor Sorensen aangekomen bij de familie Abeels. Het duurde niet lang voordat Roger, Jerry, en Mac zeer goede vrienden werden. Arthur beschouwd Jerry en Mac als zonen en hun dochter Jenny beschouwd hen als broers, ondanks hun geplaag. Jenny Abeels vertelde later dat de tijd dat Jerry en Mac in het huis verbleven "de gelukkigste twee maanden van [haar] leven waren." Sorensen had zelfs wat Frans geleerd en zijn zwaar Idaho accent charmeerde de familie Abeels.
Jerry en Mac waren leden van de familie Abeels en Roger's beste vrienden. Naarmate Jerry en Mac meer vernamen over de activiteiten van Roger in het Geheim Leger, besloten ze de wapens op te nemen, samen met hun vriend. Begin augustus liepen de drie jonge mannen naar Saint Marcoult, waar Jerry en Mac formeel toetraden tot Zone 1, Sector D van het Geheim Leger. Ze brachten de maand augustus door met het verzamelen van inlichtingen, het saboteren van Duitse activiteiten, en het ophalen van wapens en voorraden die werden gedropt voor het verzet. Jerry en Mac's militaire training bleek nuttig voor het Geheim Leger.
Op zondag 3 september 1944, de Nazi's waren in volle terugtocht doorheen België. Het Geheim Leger kreeg het bevel om de Duitse legers aan te vallen en hun terugtocht te belemmeren. Jerry, Mac en Roger werden toegewezen aan een eenheid van het Geheime leger dat posities moest opnemen in het dorp van Marcq-Les-Enghien, om de terugtrekkende Duitsers langs de hoofdweg van Ath lastig te vallen. Ze naderden het dorp via een kleine weg die een T-splitsing maakte met de hoofdweg van Ath. Vlak voor dit kruispunt, ging ofwel Jerry's ofwel Roger's fiets kapot. (Het is onduidelijk wie op de kapotte fiets reed). Jerry en Roger hielden halt om de fiets te repareren, Mac en de andere vijf gingen verder om hun geplande posities in te nemen en de terugtrekkende Nazi's op te wachten. Terwijl Jerry en Roger aan de fiets werkten, kwam een langzaam rijdend voertuig voorbij, met Duitse Officieren aan boord. Het zicht van de twee mannen op de rest van de weg werd geblokkeerd door huizen, waardoor zij geen ander verkeer konden waarnemen. Zij openden onmiddellijk het vuur, zonder zich te realiseren dat dit het eerste voertuig van een colonne was, gevolgd door een volledige SS compagnie. Jerry en Roger worden achtervolgd door de Nazi's en nemen een verdedigende positie in een konijnenhok in. Enkel bewapend met machinepistolen, vochten ze hevig tegen de aanvallende Duitsers. De Nazi's gooiden een handgranaat op hun stelling, granaatscherven troffen Jerry in zijn hoofd en nek en Roger in de rug. Beiden werden onmiddellijk gedood. Het was 13:30u op die bewuste zondag, toen beide stierven. Dertig minuten later kwamen de Britten over diezelfde weg gereden en werd het dorp bevrijd.
Op 10 september 1944 werden, op de gemeentelijke begraafplaats van Ganshoren, de lichamen van Jerry en Roger begraven, met de nodige eer. Na de oorlog wou het Amerikaanse leger het stoffelijk overschot van Jerry overbrengen naar een van de nieuwe Amerikaanse begraafplaatsen. Jerry's vrouw en familie vroegen echter om Jerry's laatste rustplaats te Ganshoren ongestoord te laten. Zoals zijn vader schreef aan het Ministerie van Oorlog in juni 1946, "Wij zijn van mening dat hij naast zijn vriend is en in de buurt van mensen die hem een thuis gaven toen hij alleen was in een vreemd land." Na een langdurige papierslag werd in januari 1949 het verzoek van de familie ingewilligd, het stoffelijk overschot van Jerry bleef onberoerd. Na de oorlog werden de familie Abeels en Nora Lee Sorensen vrienden.
Reeds in november 1945, moedigde de familie Abeels Nora aan om hen te bezoeken in België. Arthur Abeels schreef haar "Je kan niet geloven, lieve Nora, hoezeer we van je houden. Jij bent de lieve vrouw van onze geliefde Jerry. Wij hebben van hem gehouden, vanaf de eerste dag dat hij bij ons en nooit een betere jongen dan hem ontmoet. Wanneer hij ons Ma en Pa noemde waren wij zo gelukkig. Roger en Jerry waren als broers. Dit is de reden waarom ze samen waren, en samen gestorven zijn." In januari 1947 kwam Nora Lee Sorensen naar België en verbleef gedurende drie maanden bij de familie Abeels. Zij bezocht het graf van haar man om er te treuren. Ter ere van haar gaf de Gemeente van Ganshoren een herdenking voor Sergeant Sorensen op 8 februari, de gemeente van Mars-les-Enghien deed hetzelfde op 27 april. Sorensen werd postuum gedecoreerd met vijf Belgische militaire ordes, in Ganshoren werd er een straat naar hem genoemd.
Nora Lee en Jenny Abeels bleven vrienden voor het leven. Mac en Jenny bleven in contact na de oorlog en hij bezocht haar in België. Toen de Koreaanse Oorlog uitbrak, werd Mac opgeroepen voor actieve dienst bij de luchtmacht. Hij diende in Korea als de staartschutter van een B-26C Invader bommenwerper. Tijdens een nachtelijke missie werd zijn vliegtuig geraakt door luchtafweer en stortte hij neer. Hij werd als vermist en vermoedelijk gesneuveld opgegeven. Het vliegtuig stortte neer op 2 september 1951, bijna exact zeven jaar nadat zijn vrienden Jerry en Roger sneuvelden.     
Een lid van Sorensen zijn bemanning schreef het volgende over hem: "Sorensen stierf omdat hij rotsvast geloofde in waar wij voor vochten. Hij verkoos te vechten met de Belgen boven in alle veiligheid naar huis terug te keren. Alleen zij die hem gekend hebben, zullen dit begrijpen."
Zie Jerome W. Sheridan, American Airman in the Belgian Resistance: Gerald E. Sorensen and the Transatlantic Alliance. (Jefferson NC:  McFarland & Co., 2014.)  Beschikbaar in het Engels via McFarland & Co(link is external). en andere boekverkopers.
Videos (1)
Isolated Grave Ceremonies
Filmed in 2009, this video provides a taste of what the isolated grave ceremonies are all about.
Tags:
GERALD E. SORENSEN, SORENSEN GERALD E.