WEST DONALD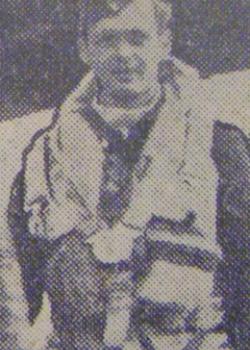 Heverlee Commonwealth War Graves Cemetery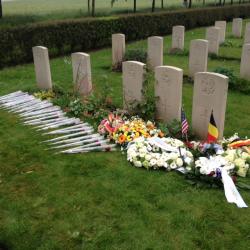 WEST DONALD
Unit & Div
Detached Service 57th Royal Air Squadron
Awards
Distinguished Flying Cross (US)

Born
span
Primary Sentinel of Memory
Sentinels of Memory
Biography
English:
First Lieutenant Donald West was born on Wednesday, 14 August 1918.  He was the son of Floyd and Maybelle West, and the brother of Floyd Junior.  His family called him Don and they lived at 1433 Vagrdes Avenue in Fresno, California. Don West joined the Royal Canadian Air Force (RCAF) on 27 August 1941.  At the time, America had not yet entered the war.  Western Europe was occupied, and Great Britain stood alone in the West in "her finest hour." 
Like thousands of other young American citizens, Don went to Canada and joined the Canadian military in order to fight the Nazis while his own country remained neutral.  (See the section of this web site dedicated to Americans who served in British and Commonwealth armed forces.)
Don became a pilot, and he was assigned to the 57 Squadron of the Royal Air Force, which was based at East Kirkby by the summer of 1943. While he flew for the RCAF, Don logged 560 hours of flying time. 
On 7 September 1943, Don transferred to the US Army Air Force (USAAF.)  Since he was a trained pilot with experience in flying Lancaster bombers, the USAAF simply left him at his post at East Kirkby when he changed services.  The USAAF listed him as being on "Detached Service" with the 57 Squadron of the Royal Air Force.   
Don was an active and lively young man.  He was a regular at both the Officer's Mess and the American Red Cross Jules Club.  He owned a beat-up 1926/27 eight-horsepower Ford sedan.  He kept a diary.  He played tennis, danced, drank, and enjoyed life. One of his best friends was Jim Elliott of the Royal Air Force.  Elliott was a member of Don's aircrew, and the two bunked together side-by-side.   
On 3 November 1943, West was piloting a Lancaster bomber with serial number W4822.  The aircraft was old, and it was on its last operational flight.  The crew consisted of:              
Pilot:            First Lieutenant Donald West
Second Pilot:  Flight Lieutenant Robert Sinclair Clements
Flight Engineer:  Sergeant William Frederick Neill
Navigator:  Pilot Officer Norman F. Buggey
Bomb Aimer (Bombardier):  Flying Officer James McPhail Elliott
Wireless Operator:  Sergeant Harry Francis McKernin
Mid-Upper Gunner:  Sergeant Francis Heaton
Rear Gunner:  Sergeant John Edmunds    
West and his crew took off from East Kirkby at 17.22 on that fateful evening for a bombing mission to Dusseldorf.  The moon was in the first quarter and there was a 40% low cloud cover over most of the route.  The Lancaster ascended slowly to 19,000 feet, and followed a level course.  It crossed the Channel and traversed Holland.  Shortly after it entered northern Belgium, the rear gunner spotted a twin-engine aircraft below them to starboard flying on a slightly converging course.  West carried out two banking searches, while the rear gunner kept an eye on the unidentified aircraft, which was out-of-range.  The unidentified aircraft disappeared into a cloudbank, and West straightened up the bomber.   
About thirty seconds later, the Lancaster was attacked without warning, dead astern from underneath with a burst of cannon fire from its front to its rear.  The attack set the Lancaster ablaze and killed the two gunners, Heaton and Edmunds.  The aircraft filled with acrid smoke.  Clements opened the cockpit windows for air, while West brought the plane down below 10000 feet so that everyone could breath easier without supplementary oxygen.  Elliott (the bombardier) saw that the payload was threatening to explode, and he jettisoned the whole bomb load.  However, the smoke was increasing and Elliott could see fire in the aft of the bomb bay, close to the chutes for the flares.  Although the bombs were gone, there were still many dangerous combustibles on board.  Time was of the essence. 
West ordered McKernin and Neill to go to the rear to try to put out the fire.  They grabbed the four fire extinguishers in the front of the aircraft and moved toward the center fuselage.  In order to get there, they had to cross the giant wing spar that separated the front from the center fuselage.  Even on the ground, this wing spar was a legendary obstacle to cross over.  In a burning aircraft filled with smoke and carrying fire extinguishers, it must have seemed like a mountain to traverse. 
With West's permission, the second pilot Clements went back to assess the situation.  He returned and reported that the gunners' ammunition, the flares and photo-flash bomb were going to catch on fire and would probably explode.  At about the same time, McKernin reported on the intercom that all of the fire extinguishers were exhausted.  The fire could not be controlled.  West gave the order to bail out. 
The emergency hatch for bailouts was located close to the bombardier.  So, Elliott opened the hatch, and being the closest, bailed out first.  Clements picked up a parachute, and placed it on West's lap.  He then put on his own, went down to the emergency hatch, and bailed out.  After Buggey put on his parachute, he went back to see if he could help McKernin and Neill who were not wearing their parachutes.  In the presence of the fire, smoke, and the obstacle of that wing spar, he could not reach them.  He went to the emergency hatch and bailed out after Clements.   
At this point, West would have been fully within his rights to bail out of the aircraft.  Given that Buggey could not reach them, the chances of McKernin and Neill making it out of the burning, smoke-filled center fuselage and across the wing spar to the front were very, very small.  It was also probable that Neill was already dead since he was not responding on the intercom.  However, Don West remained at the controls in order to give McKernin and Neill at least a chance to bail out.  
As Buggey fell to the earth, the photo-flash bomb ignited.  Buggey saw the bomber explode in mid-air, with West, McKernin, and (perhaps) Neill still alive on board.  The plane broke into two sections and crashed to the ground 3 ½ kilometers north of the village of Hechtel, just to the left of the main road to Eindhoven.  
Both the Germans and the Belgian Resistance saw the Lancaster explode in the sky and they rushed to the scene to search for survivors.  Buggey broke his leg in the jump and was captured by the Germans.  He spent the rest of the war in the Prisoner of War Stalag L3 in Sagan and Belaria.  Elliott and Clements were recovered by the Belgian Resistance and eventually returned to the United Kingdom via the Comet Line.  (For information on the Comet Line, see the biography of Robert Garrett.) 
When the Germans arrived at the burning wreckage, they found that the remains of four of the crew were so badly burnt, mutilated, and intermingled that separate identification of the bodies was impossible.  In fact, the Germans thought they had found only three sets of remains intermingled together.  The Germans buried these unidentified remains in a collective grave in their cemetery for Allied airmen at their airbase at Brusthem Airfield near St. Truiden.  The Germans found the remains of Sgt. Heaton some distance from the scene of the crash, and buried him with the unknowns.   
Following the war, the British and Americans excavated the Brusthem Airfield cemetery.  Although Heaton was identifiable, the remains of the other four were difficult to identify, not least because the Germans thought they had buried only three sets of unidentified remains in the collective grave.  The remains from that collective grave at Brusthem were transferred to a collective grave at the newly established Heverlee Commonwealth War Graves Cemetery, near Leuven.  After exhaustive investigations, British and American authorities concluded that at least portions of the remains of Edmunds, McKernin, Neill, and West were buried together with Heaton in that collective grave.   
Although Maybelle West wanted her son to have a proper burial, she understood that the recovery of Don's remains was impossible.  She at least knew that her that her son was a hero.  The navigator, Norman Buggey, who had safely parachuted from the plane but had been captured by the Germans, wrote this after the war:   
"The complete calm and self possession of Don West, the pilot, and his refusal to leave the controls while there was still remote possibility of saving some of the crew, was superb.  I am afraid his action cost him his life."
After he returned to England, but with the war still in progress, Don's friend and bombardier Jim Elliott wrote to Don's parents and said:     
"Even on that terrible night, when we were under the maximum of strain with both gunners dead and Don at the controls of a burning plane, there was no panic because the skipper was calm.  In his quiet tone he told two of the crew to go back with extinguishers and try to control the fire.  Without hesitation or question they did so, and worked heroically amid the smoke and exploding ammunition, but all in vain, using all of the extinguishers without controlling it.  Then came the order from Don to abandon the aircraft.  As bombardier and nearest the bomb hatch, I went first, so from then on my information ceased… Don had his parachute on, Mr. and Mrs. West, but knowing him as I did, I'm certain he would wait until everyone had left before moving.  It grieves me to say it, but I'm afraid Don, your son, and my pal, made the supreme sacrifice, for our united cause that night.  In a vain attempt to save the remainder of the crew (one other member was left) he hadn't left himself enough time to get out before the crash came."
Jim Elliot and Maybelle West continued to correspond after the war, and Maybelle West visited Elliott in Scotland in September of 1953.   For his actions that evening, Donald West was posthumously awarded the British Distinguished Flying Cross, and the California Air Medal.    
Jerome Sheridan wrote the story above, drawing on the following sources:
The IDPF of First Lieutenant Donald West 
The Lancaster Manual, Crown Copyright, 1942 (London:  Greenhill Books, 2003.)
Version Français:
Donald West (Don) voit le jour le mercredi 14 août 1918. Fils de Floyd et Maybelle West et frère de Floyd Junior, ils résident au 1433 Vagrdes Avenue à Fresno, en Californie. Don West joint la Force Aérienne royale du Canada (ARC) le 27 août 1941. À cette époque, l'Amérique n'est pas encore entrée en guerre. Toute l'Europe occidentale est occupée et, à l'ouest, la Grande-Bretagne se dresse seule dans « son heure de gloire.» 
Comme des milliers d'autres jeunes citoyens américains, Don se rend au Canada et se joint à l'armée canadienne afin de lutter contre les Nazis, alors que son pays reste neutre. (Voir la section de ce site internet dédié aux Américains qui participent aux forces armées britanniques et du Commonwealth).
Dès l'été 1943, Don devient pilote. Il est alors affecté au 57ème Escadron des Forces Aériennes Royales Britanniques, basé à East Kirkby (dans le Lincolnshire, Angleterre) et enregistre 560 heures de vol.
Le 7 septembre 1943, Don est transféré à l'armée de l'air des USA (USAAF) mais étant un pilote qualifié, avec une expérience sur des bombardiers Lancaster, l'USAAF le laisse simplement à son poste à East Kirkby et le désigne en« Service détaché » au 57ème Escadron des Forces Aériennes Royales Britanniques.
Don est un jeune homme actif, plein d'entrain, un habitué du club des officiers et de celui de la croix rouge. Il possède une vieille berline Ford de huit chevaux datant de 1926/27. Il tient un journal. Il joue au tennis, aime danser, boire, bref apprécie la vie. Son meilleur ami, Jim Elliott, est un membre de l'équipage de Don et tous deux logent dans le même dortoir.
Le 3 novembre 1943, West pilote un bombardier Lancaster avec numéro de série W4822, l'avion est vétuste et effectue son dernier vol opérationnel. L'équipage se compose:
Pilote: Donald West
Copilote: Robert Sinclair Clements
Mécanicien: William Frederick Neill
Navigateur: Norman F. Buggey
Bombardier: James McPhail Elliott
Opérateur radio: Harry Francis McKernin
Mitrailleur: Francis Heaton
Mitrailleur arrière: John Edmunds   
West et son équipage décolle de East Kirkby à 17h22 pour une mission de bombardement au-dessus de Dusseldorf. En ce soir fatidique, les nuages sont bas, un quartier de lune éclaire péniblement la nuit. Le Lancaster monte lentement à 19.000 pieds. Il traverse la Manche et survole la Hollande. Peu de temps après son survol au-dessus du nord de la Belgique, le mitrailleur arrière repère un avion bimoteur en dessous d'eux sur une trajectoire légèrement convergente. West effectue deux manœuvres de reconnaissance tandis que le mitrailleur arrière garde un œil sur l'avion non identifié et hors de portée. Le bimoteur disparait alors dans une nappe d'épais nuages et West redresse le Bombardier. 
Trente secondes plus tard, sans avertissement, une rafale de tirs allant de l'avant à l'arrière survient du dessous du Lancaster et celui-ci s'enflamme. Heaton et Edmunds, les deux mitrailleurs, sont tués. L'avion se remplit d'une épaisse fumée, le copilote (Clements) ouvre les fenêtres du poste de pilotage pour avoir de l'air tandis que West ramène l'avion en-dessous de 10.000 pieds afin que l'équipage puisse respirer plus facilement sans oxygène supplémentaire. De son côté, Elliott (le bombardier) largue toute la charge de bombes car celles-ci menacent d'exploser à tout instant. Cependant la fumée s'intensifie, le feu se déclare à l'arrière et bien que de la soute à bombes soit vide, il y a d'autres combustibles dangereux à bord.
West ordonne à McKernin et Neill de tenter d'éteindre le feu. Ils s'emparent de quatre extincteurs et se dirigent vers l'arrière. Dans des conditions normales, il n'est pas facile d'aller d'un bout à l'autre de l'avion car la partie centrale de celui-ci est séparée par des longerons qui renforcent la suspension des ailes et cet obstacle légendaire rend difficile le déplacement à l'intérieur, difficulté d'autant plus grande que l'avion est en feu, rempli de fumée et de plus les deux hommes transportent de lourds extincteurs; cet obstacle est aussi difficile à franchir qu'une montagne! 
West demande au copilote Clements de rejoindre le poste de pilotage afin de l'informer de la situation. Les munitions des mitraillettes et les fusées éclairantes sont sur le point de s'enflammer et prêtes à exploser à tout moment. Au même instant, McKernin signale par l'interphone que tous les extincteurs d'incendie sont vides. Ne pouvant plus maîtriser la situation, West donne l'ordre d'évacuer.
Elliott saute, Clements s'empare de deux parachutes, un pour lui et l'autre qu'il passe à West, et saute à son tour. Entretemps, Buggey se dirige à l'arrière de l'avion afin d'apporter leur parachute à McKernin et Neill mais la fumée est si dense qu'il ne peut les rejoindre et, finalement, il saute lui aussi.
À ce stade, West est toujours aux commandes de l'appareil espérant donner à Mckernin et Neill le temps de sauter, mais le feu devient de plus en plus intense et la fumée insupportable réduit leurs chances de survie. Ne recevant plus de réponse de Neill sur l'interphone, Don craint le pire.
Alors que Buggey termine son saut en parachute, il voit l'avion exploser dans les airs avec à son bord West, Mckernin et Neill. L'avion, brisé en deux parties, commence sa descente fatale pour s'écraser au sol 3 ½ kilomètres au nord du village de Hechtel, juste à gauche de la route principale d'Eindhoven.
Des membres de la résistance belge, mais aussi des Allemands ayant vu le Lancaster exploser dans le ciel, accourent sur les lieux à la recherche de survivants. Buggey, la jambe cassée, est capturé par les Allemands (il passera le reste de la guerre prisonnier à Sagan dans le Stalag Luft III, un camp spécialement réservé aux aviateurs capturés. Plus chanceux, Elliott et Clements sont récupérés par la résistance belge et retournent au Royaume-Uni via le Réseau Comète. (Pour plus d'informations sur le Réseau Comète, voir la biographie de Robert Garrett.)
Les Allemands découvrent parmi les débris du Lancaster encore en flamme les restes brûlés, mutilés et entremêlés des membres de l'équipage qu'ils croient être au nombre de trois. Un peu plus loin du crash, ils trouvent les restes du Sergent Heaton. Les Allemands enterrent ses restes et ceux des  « trois » autres aviateurs non identifiés dans une tombe commune au cimetière de l'aérodrome de Brusthem près de St.Trond.
Après la guerre, les Britanniques et les Américains déplacent les tombes du cimetière de l'aérodrome de Brusthem vers le cimetière du Commonwealth War Graves, près de Louvain. Le corps de Heaton est identifié sans problème, il n'en n'est pas de même pour les «trois» autres corps. Après des analyses approfondies, les autorités britanniques et américaines concluent que les restes des corps appartiennent à quatre aviateurs (et non trois): Edmunds, McKernin, Neill et West. Dans l'impossibilité de séparer les corps ils sont une fois encore enterrés dans une tombe collective avec Heaton.
Pour Maybelle West, tout espoir d'une sépulture pour son fils est anéanti. Pour seule consolation, elle apprend que son fils est mort en héros. Le navigateur, Norman Buggey, écrit après la guerre:
«Avec un grand calme et en toute connaissance de cause, le pilote Don West est resté aux commandes du Lancaster avec l'espoir de sauver le reste de l'équipage. Son action lui a coûté la vie.»
A son retour en Angleterre, alors que la guerre n'est toujours pas terminée, Jim Elliott, le meilleur ami de Don West écrit à ses parents:
«Durant cette terrible nuit, malgré une situation désespérée, le calme de Don a évité la panique: d'un ton très calme, il a donné les ordres à chaque membre de l'équipage, nous avons tous, sans discussion ou hésitation, accompli héroïquement notre devoir. Puis arriva l'ordre de Don d'abandonner l'avion. En tant que bombardier et le plus proche de la sortie, j'ai sauté le premier, je peux affirmer que Don avait enfilé son parachute, pour le reste des évènements à bord de l'avion, je ne peux vous donner de plus d'amples informations. Mais, Monsieur et Madame West, connaissant votre fils, je suis certain qu'il attendait que tout le monde saute avant de sauter à son tour. J'ai donc le regret de vous annoncer que Don, votre fils et mon meilleur ami a fait le sacrifice suprême: dans la tentative de sauver le reste de son équipage, il ne s'est pas laissé suffisamment de temps pour évacuer l'appareil avant l'explosion.»
Jim Elliot et Maybelle West ont continué à correspondre après la guerre. En septembre 1953, elle se rend en Écosse afin de le rencontrer. Pour ses actions durant cette terrible nuit, Donald West à titre posthume recevra deux médailles: la «British Distinguished Flying Cross» et la «California Air Medal».
Auteur: Jérôme Sheridan
Sources:
IDPF (information personnelle des archives militaires) du PREMIER LIEUTENANT Donald West.
Le Manuel du Lancaster, Crown Copyright, 1942 (London: Greenhill Books, 2003).
Nederlandse versie:
Eerste luitenant Donald West is geboren op woensdag 14 augustus, 1918. Hij was de zoon van Floyd en Maybelle West en de broer van Floyd Junior. Zijn familie noemde hem Don en zij woonden op 1433 Vagrdes Avenue in Fresno, Californië. Don West nam dienst bij de Royal Canadian Air Force (RCAF) op 27 augustus 1941. Op dit moment waren de Verenigde Staten van Amerika nog niet in oorlog. West-Europa was bezet, en Groot-Brittannië stond alleen in het Westen in "her finest hour."
Net als duizenden andere jonge Amerikaanse burgers, ging Don naar Canada om lid te worden van de Canadese strijdkrachten en de nazi's te bestrijden, terwijl zijn eigen land neutraal bleef. (Zie het gedeelte van deze website gewijd aan de Amerikanen die in Britse en Commonwealth strijdkrachten gediend hebben.)
Don werd piloot en hij werd toegewezen aan het 57 Squadron van de Royal Air Force, die in de zomer van 1943 in East Kirkby was gestationeerd. Tijdens zijn dienst voor de RCAF, verwierf Don 560 vlieguren.
Op 7 september 1943 ging Don terug over naar de Amerikaanse luchtmacht (USAAF). Omdat hij een getrainde piloot was met ervaring in het vliegen met Lancaster-bommenwerpers, liet de USAAF hem, ondanks zijn wissel van dienst, op post bij East Kirkby. De USAAF vermeldde hem als hem als zijnde op "gedetacheerde dienst" bij het 57ste Squadron van de Royal Air Force.  
Don was een actieve en levendige jongeman. Hij kwam regelmatig over de vloer, zowel bij de Mess Officieren als bij de "Jules Club" van het Amerikaanse Rode kruis. Hij bezat een aftandse 1926/27 acht-pk Ford sedan. Hij hield een dagboek bij, speelde tennis, danste, dronk en genoot van het leven. Een van zijn beste vrienden was Jim Elliott van de Royal Air Force. Elliott was lid van Don's vliegtuigbemanning en de twee waren onafscheidelijk.
Op 3 november 1943 vloog West met een Lancaster-bommenwerper met serienummer W4822. Het toestel was oud en het was op zijn laatste operationele vlucht. De bemanning bestond uit:
Piloot: Eerste luitenant Donald West
Tweede Piloot: Flight Lieutenant Robert Sinclair Clements
Boordwerktuigkundige: Sergeant William Frederick Neill
Navigator: Pilot Officer Norman F. Buggey
Richter (Bombardier): Flying Officer James McPhail Elliott
Radio Operator: Sergeant Harry Francis McKernin
Midtorenschutter: Sergeant Francis Heaton
Staartschutter: Sergeant John Edmunds 
Op die noodlottige avond vertrokken West en zijn bemanning om 17u22 van East Kirkby naar Dusseldorf, voor een missie. De maan was in het eerste kwartier en er was 40% lage bewolking voor het grootste deel van de route. De Lancaster steeg langzaam tot 19.000 voet en volgde een vlakke koers. Hij stak het Noordzeekanaal over en doorkruiste Nederland. Kort nadat ze het luchtruim boven Noord-België binnenvlogen, zag de staartschutter een tweemotorig vliegtuig onder hen vliegen, aan stuurboordzijde, op een licht convergerende koers. West verrichtte twee uitwijkende maneuvers, terwijl de staartschutter het niet-geïdentificeerde vliegtuig in het oog hield, dat buiten bereik was. Het niet-geïdentificeerde vliegtuig verdwenen in een wolkbank en West hernam zijn koers.  
Ongeveer dertig seconden later werd de Lancaster zonder waarschuwing aangevallen in de rug aangevallen met kanonvuur, van voor tot achter. De aanval zette de Lancaster in lichterlaaie en doodde de twee schutters, Heaton en Edmunds. Het vliegtuig vulde zich met bijtende rook. Clements opende de cockpitramen voor lucht, terwijl West het vliegtuig onder 10000 voet bracht, zodat iedereen makkelijker zou kunnen ademen zonder aanvullende zuurstof. Elliott (de bombardier) zag dat de lading dreigde te exploderen en hij dumpte de volledige bomlading. De rook werd steeds dikker en Elliott kon in de achterkant van de bombaai vuur zien, dicht bij de stortkokers voor de fakkels. Hoewel de bommen gedropt waren, waren er nog veel gevaarlijke brandbare stoffen aan boord. Tijd was van zeer groot belang. 
West beval McKernin en Neill naar achter te gaan en te proberen de brand te blussen. Ze grepen de vier brandblussers vooraan in het vliegtuig en liepen naar het middelste gedeelte van het vliegtuig. Om daar te komen moesten ze over de gigantische vleugeloverspannig die de voorkant van de achterkant scheidde. Zelfs op de grond, was deze vleugeloverspanning een legendarisch obstakel. In een brandend vliegtuig, gevuld met rook, en met brandblussers in de hand, moet het op de beklimming van een berg hebben geleken.
West gaf aan Clements de toestemming naar achter te gaan en ter plaatse de situatie van het vliegtuig in te schatten. Hij keerde terug en meldde dat de munitie van de schutters, de fakkels en de foto-flash bom vuur zouden vatten en waarschijnlijk ontploffen. Ongeveer op hetzelfde moment rapporteerde McKernin over de intercom dat alle de brandblussers waren uitgeput. De brand kon niet worden gecontroleerd. West gaf het bevel om om het vliegtuig te verlaten.
Het noodluik voor reddingsoperaties was vlakbij de bombardier gelegen. Elliott opende dus het luik, daar hij het dichtst bij was, en sprong als eerste. Clements pakte een parachute en legde deze op de schoot van West. Hij gespte vervolgens zijn eigen parachute om, ging naar het noodluik en sprong naar buiten. Nadat Buggey zijn parachute had omgedaan, ging hij kijken of hij McKernin en Neill kon helpen, daar zij hun parachute niet droegen. Door het vuur en de rookontwikkeling en met de vleugeloverspanning als obstakel, kon hij onmogelijk tot bij hen geraken. Clements keerde dan maar terug naar het noodluik en sprong op zijn beurt.  
Op dit punt, zou het voor West volledig gerechtvaardigd geweest zijn om het vliegtuig te verlaten. Gezien het feit dat Buggey er niet in geslaagd was hen te bereiken, was de kans zeer klein dat McKernin en Neill uit de brandende, met rook gevulde, romp over de vleugeloverspanning zouden geraken om zo uit het vliegtuig te springen. Vermoedelijk was Neill al dood, aangezien hij niet reageerde op de intercom. Toch bleef Don West aan de stuurknuppel zitten, om aldus McKernin en Neill een kans te geven om te springen.
Kort nadat Buggey contact maakte met de grond ontplofte de flash-bom. Buggey zag de bommenwerper ontploffen in de lucht, met West, McKernin, en (misschien) Neill nog levend aan boord. Het vliegtuig brak in twee secties en crashte op 3 ½ kilometer ten noorden van het dorp Hechtel, net links van de hoofdweg naar Eindhoven.
Zowel de Duitse troepen als het Belgische verzet zagen de Lancaster ontploffen in de lucht en haasten zich naar de crashplaats, op zoek naar overlevenden. Buggey brak zijn been tijdens de sprong en werd gevangen genomen door de Duitsers. Hij bracht de rest van de oorlog door in krijgsgevangenschap in Stalag L3 in Sagan en Belaria. Elliott en Clements werden gevonden door het Belgische verzet en geraakten uiteindelijk terug in het Verenigd Koninkrijk via de "Comet Line". (Voor informatie over de Comet Line, zie de biografie van Robert Garrett.)
Toen de Duitsers bij het brandende wrak aankwamen, vonden zij de overblijfselen van de vier bemanningsleden maar deze waren zo zwaar verbrand, verminkt en met elkaar verstrengeld, dat identificatie vrijwel onmogelijk was. De Duitsers dachten zelfs dat ze slechts drie verstrengelde lichamen gevonden hadden. Ze begroeven de niet-geïdentificeerde resten in een gezamenlijk graf op hun begraafplaats voor geallieerde piloten op de luchtmachtbasis bij Brusthem in de buurt van St. Truiden. De Duitsers vonden eveneens de overblijfselen van Sgt. Heaton, op enige afstand van de plaats van de crash, en begroeven hem met de onbekenden.
Na de oorlog, hebben de Britten en de Amerikanen de begraafplaats op de luchtmachtbasis van Brusthem opgegraven. Hoewel Heaton identificeerbaar was, waren de overblijfselen van de overige vier moeilijk te identificeren, niet in het minst omdat de Duitsers dachten dat ze slechts drie niet-geïdentificeerde resten in het collectieve graf begraven hadden. De overblijfselen van het collectieve graf te Brusthem werden overgebracht naar een gezamenlijk graf op de pas opgerichte Heverlee Commonwealth War Graves Cemetery, vlakbij Leuven. Na grondig onderzoek concludeerden Britse en Amerikaanse autoriteiten dat ten minste gedeelten van de overblijfselen van Edmunds, McKernin, Neill en West samen met Heaton in dat collectieve graf begraven werden.
Hoewel Maybelle West haar zoon een fatsoenlijke begrafenis wilde geven, begreep ze dat het heropgraven van Don's overblijfselen zo goed als onmogelijk was. Ze wist tenminste dat haar zoon een held was. De navigator, Norman Buggey, die veilig geland was na zijn sprong uit het vliegtuig maar werd gevangen genomen door de Duitsers, schreef dit na de oorlog:
"De volledige kalmte en zelfbeheersing van onze piloot, Don West, en zijn weigering om zijn post op het vliegtuig te verlaten zolang er nog een mogelijkheid bestond de overgebleven bemanning te redden was geweldig. Ik ben bang dat deze actie hem het leven koste."
Na zijn terugkeer naar Engeland maar met de oorlog nog in volle gang, schreef Don's vriend, de bombardier Elliott, het volgende aan Don's ouders:
"Zelfs tijdens die vreselijke nacht, toen we onder grote stress stonden, daar beide schutters dood waren en Don een brandend vliegtuig bestuurde, was er geen sprake van paniek omdat onze "skipper" ijzig kalm bleef. Op rustige toon vroeg hij twee bemanningsleden om met brandblussers naar achter te gaan en te proberen de brand te blussen. Zonder zijn verzoek in twijfel te trekken, trokken zij naar achter en probeerden heldhaftig de brand te blussen, in de dikke rook en tussen exploderende munitie. Toen kwam het bevel van Don om het vliegtuig te verlaten. Als bombardier was ik het dichtst bij het bomluik, ik ging dus eerst, vanaf dat moment stopt mijn informatie. Don had zijn parachute om, meneer en mevrouw West, maar hem kennende, zoals ik dat deed, heeft hij willen wachten tot iedereen het vliegtuig had verlaten, alvorens zelf te springen."
Het is met pijn in het hart dat ik het zeg maar ik ben bang dat Don, jullie zoon en mijn vriend, die avond zichzelf opofferde voor onze gezamenlijke zaak. In een tevergeefse poging om de rest van de bemanning te redden (er bleef nog een bemanningslid over) gaf hij zichzelf niet genoeg tijd om te springen voor de crash."
Jim Elliot en Maybelle West bleef corresponderen na de oorlog, en Maybelle West bezocht Elliott in Schotland in september van 1953. Voor zijn acties die avond werd aan Donald West postuum het Britse Distinguished Flying Cross, en de California Air Medal toegekend.
Jerome Sheridan schreef het bovenstaande verhaal, op basis van de volgende bronnen:
De IDPF van eerste luitenant Donald West
De Lancaster Manual, Crown Copyright, 1942 (London: Greenhill Books, 2003.)
Videos (1)
Isolated Grave Ceremonies
Filmed in 2009, this video provides a taste of what the isolated grave ceremonies are all about.