Memorial Day Ceremony at the Ardennes American Cemetery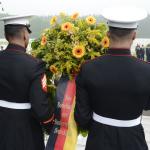 Saturday, May 27, 2017 -

10:00

to

11:00
Timezone: Europe/Brussels
Ardennes American Cemetery
4121, Neupré, Belgium
Of the 5,328 graves at the Ardennes American Cemetery, 792 are unknowns, over 13 percent.  Moreover, nearly three-fifths of the known serviceman buried here were airmen, shot down over the skies of Europe during the war. This is a ceremony that speaks to all of the lives lost in the conflict. The men that are buried here came from almost every state in the Union as well as from the District of Columbia, Canada, Denmark, France, Germany, Ireland, the Philippines, the United Kingdom, and the British West Indies. They died all over Europe, and even in Asia, They came from all branches of the United States Armed Forces:  Army, Army Air Forces, Navy, and Marines alike. In many ways, the Memorial Day ceremony at this cemetery represents America itself at the time of the wars.
Over the years, members of the Belgian royal family have occasionally attended the ceremony.  In 1960 and 1984, Prince Albert, who became King Albert II, attended Memorial Day ceremonies at the cemetery. More recently, Prince Phillip, who is now King Phillip, attended in 2004. Princess Astrid attended in 2010.  Since 2008, local school children have sung the American and Belgian national anthems at the ceremony.
On a historic note, the first Memorial Day ceremony at the cemetery was held on Memorial Day 1945.  It was an ad hoc ceremony organized by the cemetery staff, but it quickly evolved into something much bigger. When the cemetery staff invited Jean Gony, the mayor of Neuville-en-Condroz (now part of Neupré), to their impromptu and informal event, the mayor enthusiastically embraced the ceremony and brought along a large contingent of local school children, veterans, and town officials to attend with him. The first official Memorial Day ceremony at the cemetery occurred in May of 1946.  To this day, AOMDA and the Memorial Day ceremony at this cemetery enjoy the strong support of the community of Neupré.
Nearby Museums and Monuments